The importance of maintaining a healthy body and spirit increases as we age. The practice of yoga can help maintain both. It helps the body by preventing osteoporosis, assisting with joint movement to relieve arthritis and improving balance. It helps the spirit by giving the individual the communal experience of  being part of an excellent social community.
These are only some of the benefits. Keep reading to find a list we have compiled of 7 benefits from engaging in yoga!
It keeps your brain sharp
Practicing yoga  encourages you to slow your breathing and meditate., This will improve your cognitive function and sharpen your mind. It encourages you to keep your mind centered and organized, and take a break from the frantic pace of everyday life. The practice of yoga has been regularly reported to improve moods and memory.
Strengthens the bones and joints
It is common for our bones and joints to lose density and stiffen as we age. Some people develop osteoporosis which is a disease that weakens bones. Thankfully, yoga  is safe for people with osteoporosis to practice to prevent or slow down their bone loss, and relieve their joint pain. By moving your joints regularly with different and various yoga poses, you can reduce stiffness and tenderness. If you have joint or bone problems, let your instructor know. If you need props or modifications to your routine, he or she can help.
Increases your stamina and balance
You will improve your strength and balance as you age through yoga's slow, measured movements. It's okay to feel wobbly at first, but with practice and persistence, you will be able to keep your balance and perform the poses.
Reduces stress
Yoga can be a very effective way to relieve tension and stress, and it may even result in people requiring less medication as a result. Practicing yoga may help manage blood pressure levels by reducing nervous system activity. Yoga achieves this through posture, meditation, and controlled breathing.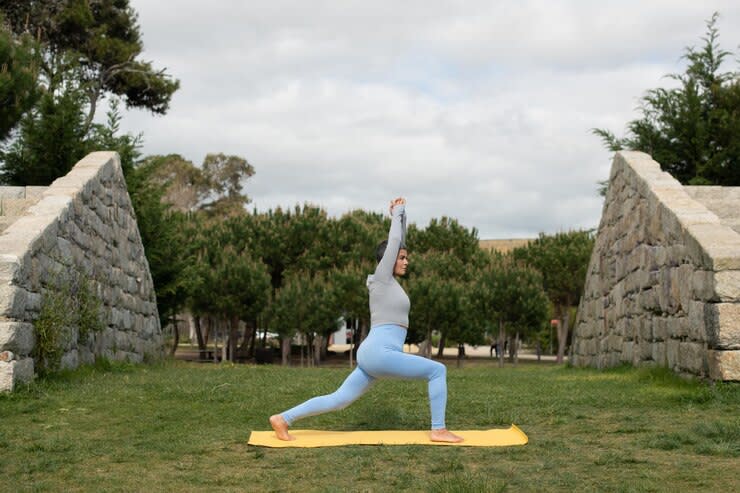 Improves sleep quality
When people start practicing yoga, they find that their insomnia is reduced and they get a better night's sleep.  If you do some simple stretches and breathing exercises before bedtime, you can concentrate on the present rather than worrying about things that happened during the day or what might happen tomorrow. This will help quiet your mind and reduce your anxiety, both of which aid sleeping. .
Slows down aging
To slow the aging process, yoga combines strength and relaxation. First, holding yoga poses increases your strength, which slows the loss of muscle with age. As a matter of fact, yoga has been shown to reverse muscle loss. Second, you can reduce your heart rate and improve your circulation with yoga by calming your breathing. Eventually, you will unconsciously carry this practice of calm breathing into other areas of your life.
Relieves back pain
Yoga helps maintain a healthy back. In addition to stretching and strengthening your essential back muscles, it also improves your flexibility and strength, and corrects posture and breathing., The end result is  a reduction in lower back pain, the most common source of pain and disability in older adults.

Please note: You should not suffer from pain while practicing yoga postures. It is never a good idea to push yourself to the point where you are in pain. Yoga instructors can help adjust your routine and yoga sequence if you have any physical problems or are experiencing pain.

There you have it! Seven benefits where yoga helps reduce pain, strengthen muscles and improves joints, all of which will help your body and brighten your spirit.

At ActivePro Nursing & Homecare Inc. we have experienced caregivers and home nurses who are willing and able to provide you with the best and most specialized care, adapted to your needs, in the Toronto and Niagara regions.  You and your loved ones can count on us!
Active Pro: The well-being of our older adults is our top priority!