If you're a family member providing dementia care for a loved one, you know the challenges it can involve. For all of the difficult moments, here are our favourite inspirational quotes to help you keep moving through your days with compassion, patience and love for your family member with dementia.
"Caregiving often calls us to lean into love we didn't know possible." -Tia Walker
"We remember their love when they can no longer remember."
"Persons living with dementia are usually capable of more than we can imagine." -Bob DeMarco
"Remember, the dementia patient is not giving you a hard time. The dementia patient is having a hard time."
"A good laugh and a long sleep are the two best cures for anything." -Irish Proverb
"Those with dementia are still people and they still have stories and they still have character and they're all individuals and they're all unique. And they just need to be interacted with on a human level." -Carey Mulligan
"One person caring about another represents life's greatest value." -Jim Rohn
"If there's one thing I've learned in my years on this planet, it's that the happiest and most fulfilled people are those who devoted themselves to something bigger and more profound than merely their own self-interest." -John Glenn
"Sometimes it takes more courage to ask for help than to act alone." -Ken Petti
"Some days there won't be a song in your heart. Sing anyway." -Emory Austin
"There are only four kinds of people in the world. Those who have been caregivers. Those who are currently caregivers. Those who will be caregivers, and those who will need a caregiver." ― Rosalyn Carter
"It is not the load that breaks you down. It's the way you carry it." — Lena Horne, singer
"It is not how much you do, but how much love you put in the doing." — Mother Teresa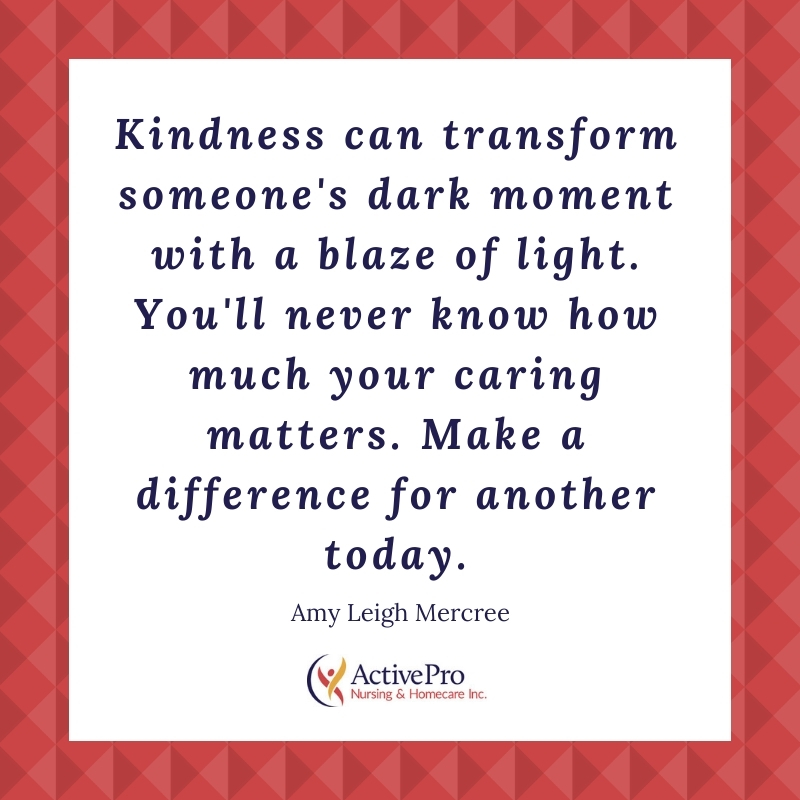 If you need more than just inspiration, consider hiring homecare services to support you in your caregiving role. Call ActivePro Nursing & Homecare Inc. to book a free consultation to discuss your family's dementia care needs throughout the Toronto region.